Ashanti Silk Mantle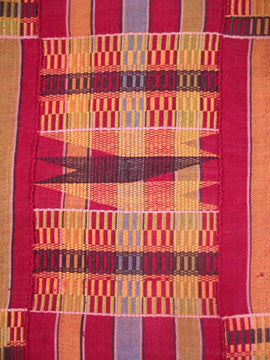 This
Nsaduaso
cloth is a prestige mantle from the Ashanti/Asante people of Ghana in West Africa.
It is a rectangular form measuring 68 in. x 101 in. and is comprised of 21 double-sided panels of fine strip weaving in silk. The rich maroon background is traversed by vertical stripes in muted tones of citron green, slate blue, and golden yellow. This garment is further embellished with regularly spaced blocks of
susudua
(supplementary patterning) that are reserved for chiefs, courtiers and other royals.
This type of weaving is generally referred to as
kente
. Both ends of the mantle feature 9 inch borders of dense patterning (susudua) adding to its prestige. This fine old cloth dates from the 19th C. and is structurally sound. There are scattered small holes due to age and wear, native repair in white cotton thread.
Nsaduaso
of this age and quality are rarely seen today. 
For more information see
African Weaving
by Venice Lamb, Duckworth & Co. Ltd., London, 1975. pp. 103 – 162.
---
More from this collection