Southwest Serpentine Jacla Necklace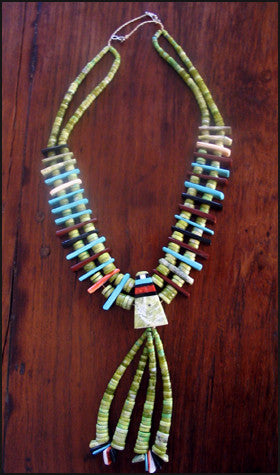 Natural Stone Beads Strung as Necklaces were Made by the Ancient Cultures of the Southwest Long Before European Contact and the Advent of Silversmithing...


Double strands of drilled-disc, green serpentine beads, set the stage for this one of a kind necklace. Colorful slabs of turquoise, brown catlinite, serpentine, jet, and orange spondylus shell add additional visual appeal. "Jacla" pendants are often seen on old Navajo pieces, created by earrings that can be worn separately or added to the necklace as dangling pendants.
The strands culminate in a triangular serpentine pendant inlaid with a mosaic of spondylus, jet, turquoise,and white clam shell.
Double jacla style pendants in serpentine dangle below embellished with multi-colored stones.The pendant is inlaid on both sides to be worn with either side up. This is a piece to be treasured for generations. Care should be taken to avoid water, abrasive surfaces, or dropping to protect the stone inlay
The necklace is approximately 26"long.The central mosaic pendant is 1.75 " x 1 ", the jaclas are about 4 in. long, combining to create a statement piece that measures over 30".
Native American jewelry designer, Delbert Crespin created this unique piece. 
What a beauty!


 Free Shipping in Domestic USA  
---
More from this collection