SouthWest Turquoise Mosaic Tile Necklace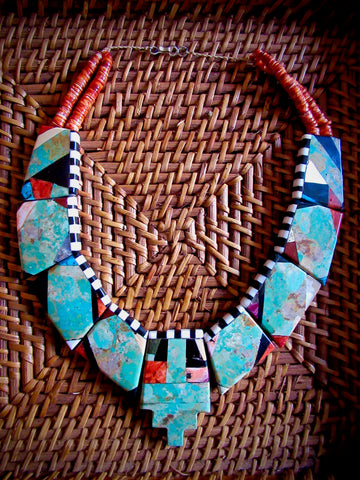 Adornment featuring stone mosaic designs on thin wooden slabs was developed by the ancient cultures of the Southwest long before European contact and the advent of silversmithing.
Double strands of handmade, drilled disc ,spondylus shell beads set the stage for this one of a kind necklace comprised of nine mosaic tiles. The average size of the inlaid tiles is 1.25" x 1.50".
The rich colors of turquoise, orange spondylus shell, mother of pearl,and catlinite bordered with jet and clamshell make up the handsome design. The colorful stones are mounted on jet which keeps it light to wear. The reverse is a dramatic statement, as well, and may be worn face up.Spondylus shell, a Pacific thorny oyster, was traded from South America and Mexico along a route that extended into the desert Southwest of North America. The orange red shell represented the Earth Mother to these indigenous peoples and the turquoise represented Father Sky. The combination of the two together denotes balance.
This is a piece to be treasured for generations with proper handling. Care should be taken to avoid water, abrasive surfaces,or dropping to protect the stone inlay.
Native American jewelry designer, Delbert Crespin created this stunning piece. It is approximately 21 in. long. The central shell pendant is roughly 1.5"x2.5". Free Domestic Shipping USA
---
More from this collection