Adornment
Antique Bronze Bell Bracelet from Africa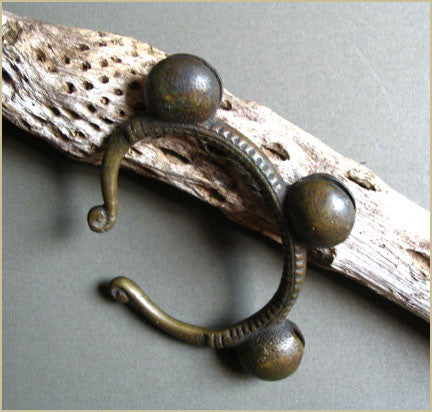 The rich patina of this old bracelet from West Africa resembles bronze. It's simple but strong form features three slit bells whose rounded shapes and delicately reticulated surfaces resemble seedpods. The overall design is quite organic in feel. 

Bells were used to repel evil or malicious spirits in many cultural groups. This piece may have been held in the hand and rattled during ceremony or ritual, as the opening is very small for an adult wrist. It was sensitively designed in wax and then melted to create a mold for the molten brass to replace it in a technique commonly known as "Lost Wax". As molds can only be used one time in this process, this is a definitely a one of a kind piece.

This handsome traditional object measures 4.25 " x 3.5 " 
---
More from this collection