Autumn Jasper Necklace with Pipestone Feather Pendant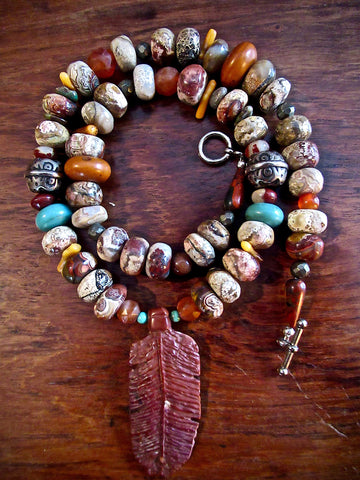 Organically-shaped, natural jasper in russet and cream patterns predominate on this rich strand of vintage and antique beads. 
Jasper is a grounding stone and revered by many civilizations throughout millennia.
An eclectic assortment of tribal silver, natural turquoise, butterscotch coral, faceted carnelian, pyrite and old glass beads from Nepal contribute additional color, texture and visual interest.
The main attraction is the hand-carved Sioux feather of catlinite that hangs as a pendant 
and adds to the harvest of natural and handmade beauty.
Each bead is distinctive and unique but when strung together they readily combine to evoke the essence of Indian corn and the Harvest season.
Delicious to look at, delightful to touch, you will appreciate the abundance it portrays all year long.
This OOAK necklace by Deborah Garner is 24 inches long including the feather, which is 2 inches.
---
More from this collection