One of a Kind Silver Engraved Rock Crystal Yantra Earrings from the Himalayas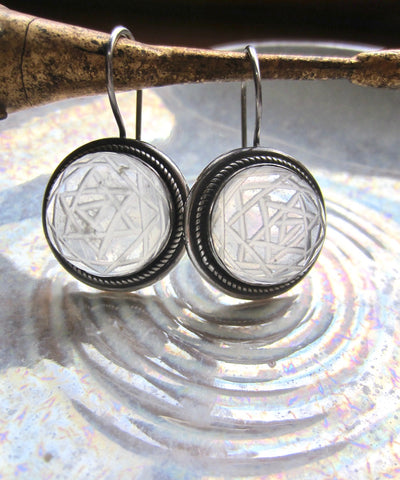 These mystically engraved crystals were collected and set in sterling silver by master silversmiths in Nepal several decades ago to create a most distinctive pair of earrings.
Traditionally sourced from natural quartz crystal found at the headwaters of the Ganges River and hand engraved in yantra/symbols reflecting the cosmic marriage of the divine masculine and divine feminine that brings about harmony and balance in the Universe. Crystal yantra are considered auspicious by Hindu and Buddhist alike, and to bring the blessing of balance to the wearer...
From ear hook to base measures about 1 inch. They are .75 inch across and weigh about an ounce.
To be treasured by generations to come...
---
More from this collection