Tibetan Khyung Garuda Pendant on Rich Gemstone Strand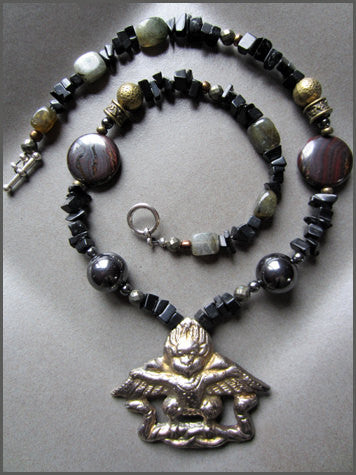 This long, eclectic strand of edgy Black Onyx slabs and watery Labradorite mingle with quietly-refined Hematite, faceted bronze-toned Pyrite and ruddy disks of Tiger Iron.

Textured brass beads add a hint of warm gold to compliment the striking focal point, a Garuda pendant inspired by an old Tibetan khyung amulet. 
Garuda is the mythical, golden, solar eagle, Lord of the Birds and killer of evil Nagas (snakes). In the Himalayas he is revered by Hindu and Buddhist alike and thought to be powerful and protective in nature. 
He majestically spreads his golden wings from a tether of midnight stones, to subdue any modern day Nagas that may foolishly attempt to cross your path… 

A One of a Kind necklace design by Deborah Garner
Necklace measures 22 inches long including pendant (2"x 2")
The pendant was cast in alloyed metal from a mold created by an antique amulet. 
---
More from this collection