Adornment/Asia
Large Tibetan Silver Charmbox with Coral on Heavy Silver Chain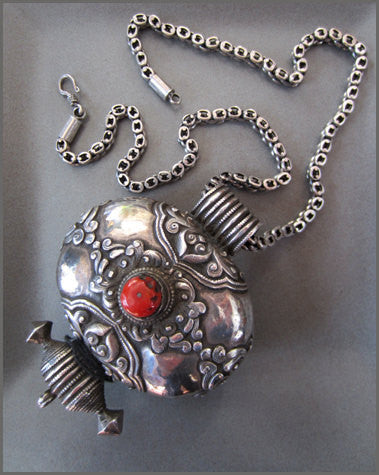 Exquisite, Antique Charm Boxes (Gau)Like This One Are Quite Hard to Find Today... 


The substantial size (3 in. x 3 in. x 1.25 in.) and ornate engraved/relief silver work, set with red coral, make it an exceptional treasure. 
It was probably made in Tibet in the late 19th C. or early 20th C. and is truly museum quality.
Gau were traditionally used to carry small, personal, Buddhist amulets for devotion and protection and usually worn as elaborate pendants on necklaces by women. 
As silver was precious and quite expensive, the unseen reverse was usually made of copper or brass.This one is copper and has a beautiful patina from age and use. It is tied with a cotton thread, as it was when collected in Kathmandu decades ago…
Strung on a heavy vintage chain from Bali, it creates a statement necklace that transcends time and culture. 
The 19.5 " chain is easily removed to be worn alone or with another precious pendant.
A beautiful addition to any collection…Free Domestic Shipping USA
---
More from this collection