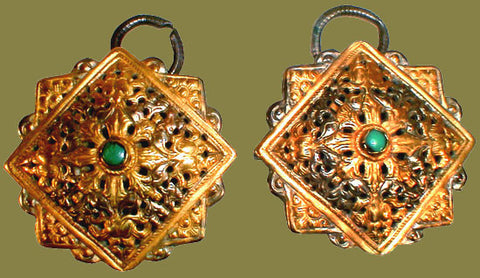 This Set of Elaborate Dress Fasteners Are Known As Coma in the Himalayan Kingdom of Bhutan. Coma Are Used to Join Two Corners of the Traditional Rectangular Dress (kira) At Each Shoulder for Wearing.
This pair is beautifully handcrafted of coin silver using repousee and engraving to create an intricate floral design. They are further embellished with gold wash (vermeil) and turquoise colored insets. Each coma measures 2.5 in. x 1 in. 


The fineness of ornamentation suggests that these were made for an aristocratic lady. The large rings on each coma permitted a chain or necklace of beads to be attached and visually join the coma at each shoulder. Sharp points soldered on the reverse insured a secure fit.
Coma of this quality are not often seen and are quite special indeed.
Free Domestic Shipping in USA


---
More from this collection