Artifacts
Antique Copper Frog Mask from Mexico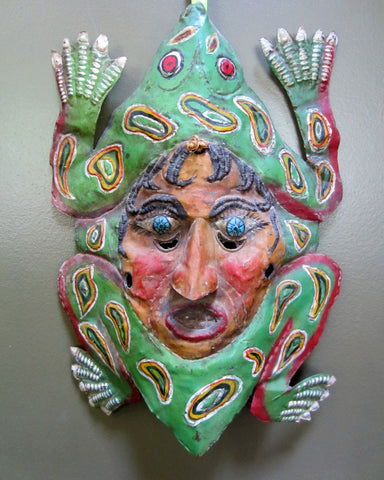 This type of antique, copper, Mexican festival mask is very hard to find today. You can occasionally find painted tin ones but even they are not common, and not quite as old as the copper ones. Painted copper masks were traditionally from the Guerrero Sierra in Oaxaca, Mexico.
This one dates from the early 20th C. It has been in my personal collection for over three decades.The design harkens back to Aztec/Pre-Columbian traditions and is quite striking. This one of a kind creation would make striking contribution to any collection...Frogs are symbols of water and through that tied to rain and crop fertility.
The face may represent a deity long forgotten ...perhaps the blue eyes suggest a water spirit.... A wonderful addition to any collection! Mask is 16" high and 12" wide.
---
More from this collection