Artifacts
Antique Silver Embellished Tibetan Coin Purse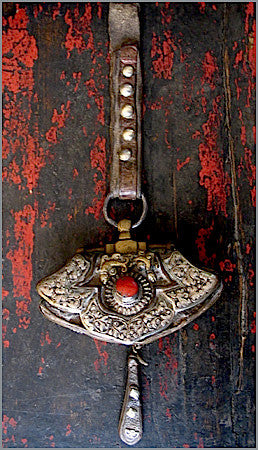 A fine, antique example of a traditional coin purse for an upper-class Tibetan man. This handsome object is as important for its decorative beauty as it is for its utility. A rich and lovely patina has been acquired through use. Two golden fish cavort over a silver petaled disc studded with red coral. The fish are known as "matsyayugma' and have several auspicious meanings that contribute happiness and abundance. The purse cover is edged in exquisitely engraved silver.
From the wear and beautiful patina this coin purse seems to be late 19th- early 20th C. The entire piece including the strap measures 13 inches (33cm). The coin purse itself measures 5 inches (12.5 cm) across and roughly 3 inches (7.5 cm) from top to bottom down the middle sector. It is about 1 inch (2.5 cm) deep. The bottom is encased in brass with additional silver toned symbols of a floral form and a "Wheel of Joy" design. A double leather tassel is suspended from the bottom with small silver toned decorations attached on either side. The overall condition is good, a few small metal studs missing due to age and wear. 
Old pieces such as this are getting increasingly harder to acquire. This was sourced over 30 years ago in Dharmsala. 
* Additional views available on request. 


---
More from this collection