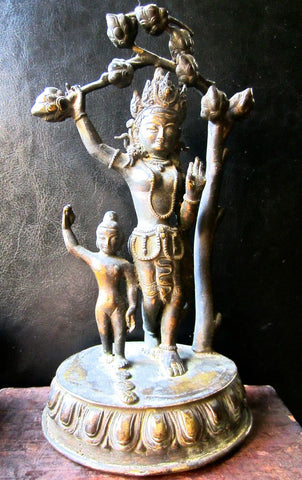 This lovely, old Newar statue from Kathmandu has been in my collection for over three decades. 
A bejeweled Queen Maya, eyes semi-closed in meditation and holding on to a stylized tree branch,gives birth to the baby Siddhartha the future Shakyamuni Buddha. 
As he steps out from her right side and takes his first steps, seven lotus blossoms appear.
It was collected in Kathmandu around 1980 was clearly vintage then.
The rich patina on the blackened brass and substantial weight add to its visual appeal.
Dimensions: Height: 7 in., Depth: About 3 in., Circumference of Base: 10 in. 

---
More from this collection