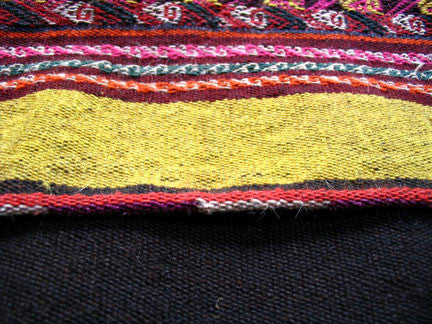 This handsome textile is worn about the shoulders of a traditional Aymara woman of Bolivia and secured by a metal pin. It is woven of finely spun camelid and sheep wool and is roughly square in shape, measuring 38 in. x 42 in.
These textiles are known as
ahuayo
in the Aymara language and are referred to as mantas by those outside the culture. These strong woolen textiles are also used as carrying cloths for babies and parcels. The weavers take pride in expressing their village of origin through the use of design, color and patterns that are easily translated by other indigenous people in the region.
The finely woven, dark chocolate background is richly embellished with magenta and mustard yellow warp stripes bordered by double-faced supplementary design stripes featuring geometric patterning on both sides. The center of the textile features a 10 in. wide band of multicolored intricately woven warp stripes featuring a remarkable menagerie of birds and beasts. The central mustard yellow stripe is stunning in the fineness of the flower, animal, and bird forms displayed. The
ribete
or woven edging is made of alternating purple and white stripes bordered with red. Structurally it is in very good condition. .
---
More from this collection