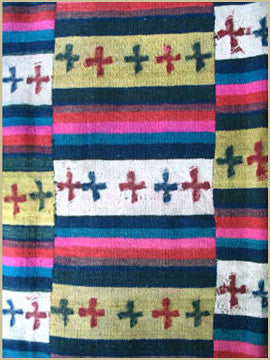 This handsome textile is made of panels of 
hothra j
alo patterned wool, which means,"Mongolian weaving with rainbow
"
.
It is rectangular in form and measures 51.5 in. x 96 in. The hand-loomed woolen cloth is produced in Tibet but highly valued in Bhutan and northern India, regions that share many cultural affinities including their strong Buddhist faith. The textile shown is worn as a "kira" or traditional Bhutanese woman's wrap around dress. It is composed of eleven panels that measure 9½ inches wide and are joined along the selvedges. The alternating weft stripes of golden yellow and off-white are embellished with stamped cruciform shapes in scarlet and dark blue. These cruciform shapes denote elevated social status among many rural groups. The red and blue symbolize duality and the creation of balance in Himalayan textiles, as well as many others, worldwide.

Acting as spacers between these decorated bands are multicolored stripes in varying widths, thus the inclusion of "rainbow" in the descriptive name. The edges of the back of the textile are edged in red cotton to prevent wear on the precious imported cloth. The condition of this kira is very good, with a couple of small native repairs from age and wear. The boldness of design creates a very contemporary feel to this traditional textile. Westerners easily relate to this aesthetic and find it as appealing as the cultures who make it. 

For reference: From the Land of the Thunder Dragon, Textile Arts of Bhutan, Diana Myers and Susan Bean, Serindia Publications, London, 1994.
---
More from this collection