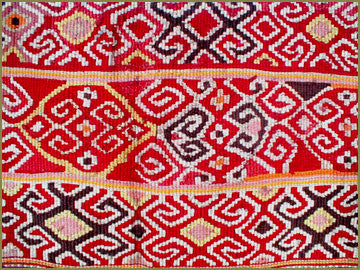 This fascinating textile is part of the elaborate costume of an Atoni warrior from the Indonesian island of Timor. It is known in the culture as pilu saluf

.
The pilu saluf was attached around the waist or head of a revered warrior or meo who had achieved status by the taking of a head. It is woven in colorful cotton and features twining, a technique that is often used in warrior's costume throughout SE Asia. The rectangular form, with eight separate one-inch wide ribbon-like fringes, measures 8.5 in. wide x 28.5 in. long. The background color of madder is particularly associated with head hunting and war. Complex and simple geometric patterns in ecru, white, orange, brown and black are created through tapestry weaving, supplementary weaving and twining. Textiles of this type are considered heirloom pieces and are used at various life - crisis rites to commemorate great meo ancestors. The overall condition is good. There is a small hole, rip, and a native repair due to age and use.

Textiles of this type are not often seen today.
---
More from this collection