Antique Pearl and Turquoise Brooch from Ladakh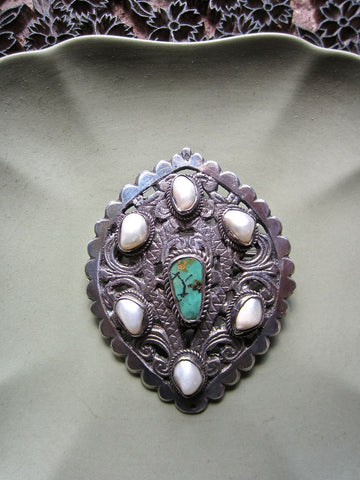 Six Baroque Natural Pearls Are Scattered Around a Green Turquoise in a Field of Engraved Silver Filigree...
The organic matrix in the turquoise creates a simple landscape that adds to the charm. The workmanship is bold, with cut and pierce silver supporting lovely pearls and turquoise. It was acquired from an estate sale in the 1970s and was said to have been acquired in Ladakh or Kashmir in N. India.
The scalloped oval shape filled with swirling filagree does suggest the paisley/boteh designs created in Kashmir and the jewels reflect the love of pearls and turquoise in Himalayan Ladakh. This lovely piece measures 2.5" x 2".
A Stunning Adornment for Any Collection! Free Domestic Shipping USA
---
More from this collection