Antique Tapestry Weave Acheik Silk Skirt from Burma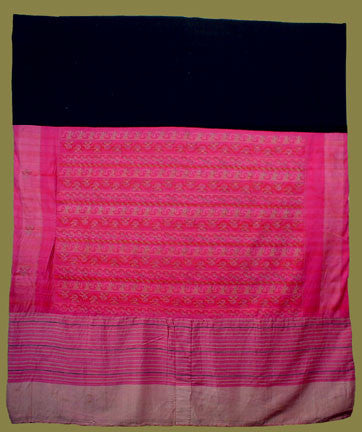 This elegant skirt was worn for ceremonial occasions by an elite Bamar woman of Mandalay, Burma at the turn of the 19th C.
Shades of pink were popular in the last court of Burma and is still a favorite of contemporary Asian women.

This is a fine example of a complete byant htamein. It measures 42 in. wide x 49.5 in. long. It consists of a cotton waistband,silk tapestry weave panel, silk train, and cotton liner. Its vibrant palette of deep magenta, rose pink, red, and salmon pink are accentuated with a silvery shade of celadon green. A dart has been added by the wearer on the left side for a more flattering fit.

The tapestry panel's design features alternating rows of acheik patterns including: flowers with linked leaves,  lei-sin-lon-kyo (four stripe twist), nit-sit-lein-kyo (two twisted stripes) and a complex variant of a floral and gamoun(creeper) design. The train is made of shimmering pale pink silk with horizontal stripes of magenta, rose pink, and red, alternating with pale pink supplementary stripes.

Complete examples of archaic htamein are not often found today. This lovely example is in excellent condition. 
---
More from this collection