Antique Timor Silver Bell Bracelet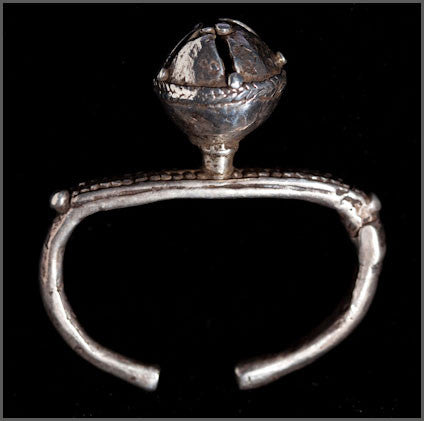 This stunning piece hails from West or Central Timor, Indonesia and is possibly from the Atoni people.
The antique form features a star-fruit bud representing female fertility. It was traditionally held in the hand of a female dancer from Belu who accentuates her movements with the ringing bell.
Susan Rodgers states in 
Power and Gold, Jewelry from Indonesia,Malaysia and the Philippines 
that the style is possibly influenced from the old court styles of jewelry from Java and Bali, These designs reflect the influence of Indian design.
Clearly an old piece,it is missing two balls of granulation at the apex of the bud. The rich patina of the high silver content makes up for any loss from age and use. A similar example can be seen on page 299 of Power and Gold It measures 3" across and 3.25" high.
Old examples like this are very hard to come by today and quite collectible. Free Shipping Domestic USA
See Power and Gold,Text by Susan Rodgers, Barbier-Muller Museum, Geneva, 1985 for similar examples. 
---
More from this collection