Black Bhutanese Kira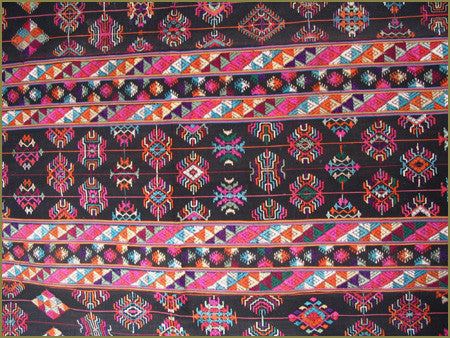 This handsome textile is a traditional woman's wrap around dress known as kira in the Himalayan kingdom of Bhutan.
The rectangular form measures 52.5 in. x 92 in and is created of three panels joined in the warp direction and oriented horizontally when worn. The solid black background creates a dramatic foil for the skillfully designed palette of warm orange,red,and maroon contrasted with cool turquoise,green and aqua. Both warm and cool colors are complemented by shades of fuchsia, ecru, and purple.

The black background would classify this kira as napsham in Bhutan.

The variety of fine supplementary patterns and geometric designs seems to be infinite in this richly embellished textile. They are woven in both sapma and thrima techniques in silk and cotton threads. Sapma resembles satin stitch embroidery stitches visually and thrima resembles chain stitch embroidery in appearance. The weaver's use of symmetry and space in the overall design contributes to a sense of visual calm and cohesion, despite the variety of pattern and colors. The repeating of meanders in the weft bands and geometric designs at each end help to visually unify the piece. The ends of the textile terminate in twisted fringes.

Textiles of this size are a challenge to photograph. I have included close-ups of the designs in the body of the textile, outer borders and bottom edge to help tell its story. Please contact me if you have further questions about this piece. 

For reference: From the Land of the Thunder Dragon, Textile Arts of Bhutan, Diana Myers and Susan Bean, Serindia Publications, London, 1994.
---
More from this collection