Shiva, Parvati and Ganesh Statue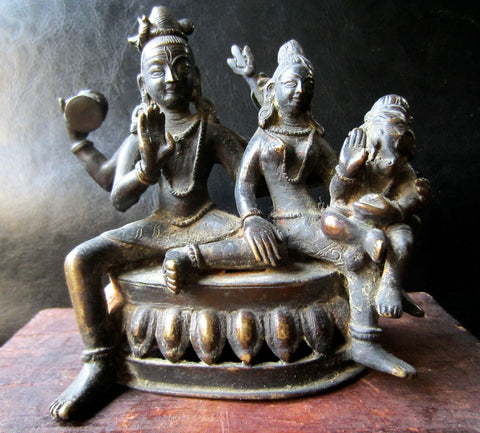 This finely detailed, small Newar statue is an unique family portrait from Nepal. 
It depicts a sublime, four-armed Shiva, with one hand gently resting on the serene Parvati's shoulder. She casually puts her hand on Shiva's left knee and supports baby Ganesh on her lap. Ganesh offers a blessing to the viewer with his right hand. 
Such a sweet picture of marital bliss and family life…
It has been in my collection for over 30 years and was collected in Kathmandu in the early 80s.
The darkened brass has aged to a beautiful bronze-toned patina and has orange puja powder about the crevices. It has substantial weight and may be late 19th to early 20th C.
A real beauty!
The dimensions are: Height: 4 inches, Width: 3.5 inches, Depth: 1.5 inches
---
More from this collection