Exquisite BaKuba Ceremonial Raffia Over Skirt with Indigo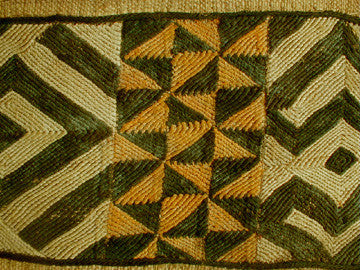 This exquisite form of ceremonial raffia overskirt is known culturally as "ntshakabwiin".
It is a prestige garment , only worn by high ranking Royal Bushoong women in the king's inner circle.The rectangular form is comprised of a central panel intricately patterned with highly refined cut-pile work and embroidery in natural colored raffia fiber. Narrow borders of finely embroidered interlocking chevrons in dark indigo blue and natural tan surround the central panel on three sides. The unadorned plain weave panel is worn underneath as the more elaborate section is wrapped around the wearer's body. Two bands of embroidered yellow and blue pinwheels on the side borders provide additional prestige to an already stunning example of highly refined needlework and visual composition. There is a light dusting of kaolin on the borders that adds a subtle sheen. This is one of the finest examples I have seen in museum and private collections alike.
Dimensions: 23" x 58" Excellent Condition
---
More from this collection