Exquisite Oscar Quezada Black on Black Design Pot from Mata-Ortiz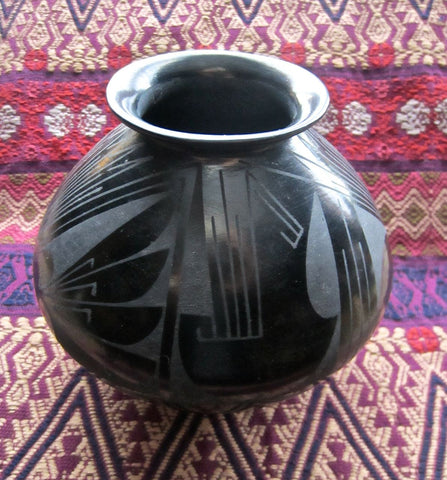 Master potter, Oscar G. Quezada, learned from the best, his mother Consolacion and her brother, Juan Quezada, who spearheaded the creation of distinctive handbuilt pinch and coiled pots inspired by ancient Paquime and Mimbres ceramics in Mata-Ortiz, Mexico.
This elegant thin-walled pot features hand-painted matte black geometric designs on the stone burnished shiny black surface. It is approximately 6.5" high, 6" across, with a circumference of 17.5'. The lovely lip measures 2.5" across. 
The artist's signature is on the bottom but the style and quality of his work is readily recognizable by collectors.
A beautiful addition to any collection!
---
More from this collection