Fine, Chased and Repoussed Silver Shrine Box from Tibet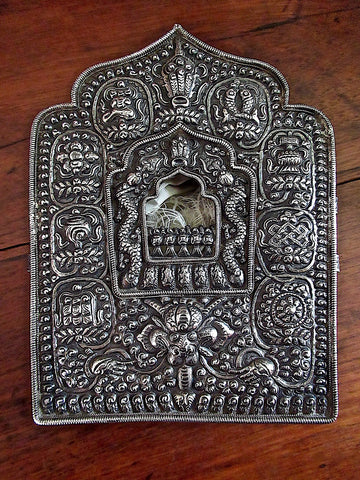 This handsome object would reside on the family altar until utilized as a portable shrine, offering protection and sacred devotional space to it's masculine owner. When traveling, a woven sash or cord would be attached to the silver bars on each side allowing the "ga'u" to be securely worn across the chest and to one side.


The silver face is intricately embellished with the traditional "Eight Auspicious Symbols", known as "Astamangala", which features emblems of

 

the White Parasol, Pair of Golden Fish, Treasure Vase, Lotus, White Conch Shell, Endless knot, Victorious Banner, and Golden Wheel around the border.
The outline of the "torana"-shaped box is repeated in the central window and dragon border surrounding it. A small deity or image could be placed here to receive the silver offerings lined up beneath the opening.
Supporting the window and adding another layer of protection is the Leonine-faced "Simhamukha" to deflect any demons that may be about.
The gorgeous silverwork fronts a beautifully patinated burnished copper box.
The back is removable, to easily update images or add amulets. Inside is a simple white "khata" scarf given as a blessing for safe travels.
This wonderful "ga'u" was acquired in Dharmsala in the early 1980s and is probably from the late 19th C to early 20th C. It stands 8 inches high and is 6 inches wide and 3 inches deep.  *Free Shipping to Domestic USA
---
More from this collection