Old Ojibwe Beaded Drawstring Bag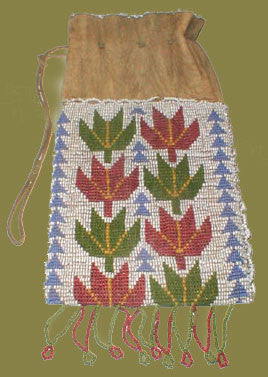 This handsome drawstring bag of tanned buckskin or elk hide comes from the Chippewa/Ojibwa/Ojibwe people of the Great Lakes region of the US. It would be used to carry personal items as well as for contributing additional panache to ceremonial attire. In the late 19th C. when this bag was made, glass seed beads of European manufacture were only obtained by Native peoples through trade. Because of this, they were highly valued and seen as a symbol of personal wealth. The abundance of beads used to decorate this pouch would indicate very special status for the owner.
Three-quarters of the pouch, which measures 10" x 4.75", is covered with intricately woven beadwork on the front and back. The white beaded background features abstract foliate designs in red and green with yellow detailing and stacked vertical rows of blue triangles. On one side the triangles point up, on the other they point down. The bottom fringes are formed of loops of red and green beads.
It is in wonderful condition structurally. There are some white beads missing from edges due to age and wear. Beautiful object to be cherished...
---
More from this collection