Old Traditional Turquoise and Silver Earring from Tibet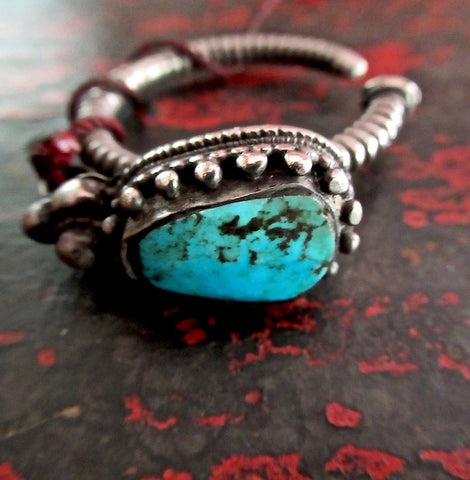 This Handsome Object, Known as "Along", is Worn Singly by Men and as a Pair by Women Throughout Tibet...
The silver hoop measuring 1.25" x 1.25" is handmade from pearled wire and features an oval bezel embellished with silver granulation and set with a natural turquoise stone. A small ring under the bezel allows a twisted cord or silver chain to be attached to the wearer's head or top of ear to support the weight.This example has the cord still attached.
In very good condition. A missing ball of granulation and smoothing of the silver due to age and wear, add to its beautiful patina and attest to the cherished adornment it was. Older pieces like this are not often seen and to be treasured.
Weighs 0.65 oz     Free Priority Shipping within Domestic USA
---
More from this collection