Silver Tiger Bracelet from Burma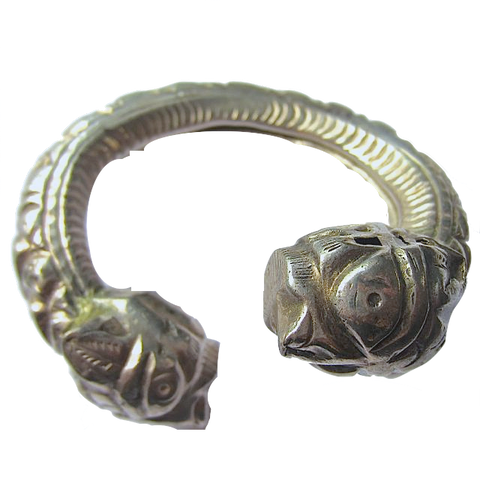 These dramatic bracelets were handmade of repoussed and engraved silver. The silversmiths formed them into a hollow cresent shape and capped them with tiger head finials.
Made for a smaller wrist, there is flexibility at the bracelet ends which assists in the putting on and removal of these handsome pieces.The tiger is revered across South East Asia for its strength and is a symbol for protection.
The tigers here, probably made by Shan smiths, are more charming than fearsome, and though of similar type they differ in pattern and style.An example of this type of bracelet is attributed to Kachin State in Jewelry of SouthEast Asia p.147.
Please feel free to request more detail shots if you are interested. 
The top bracelet measures slightly over 3" across and is 2.75" high. The space between the lion heads is .50" and the space inside is slightly over 2".
Sorry, The bottom bracelet is SOLD 
For more info see "
Jewelry of South East Asia" by Anne Richter, Thames and Hudson Ltd, London, 2000. Free Domestic Shipping USA
---
More from this collection