Antique Tamang Shaman's Drum from Nepal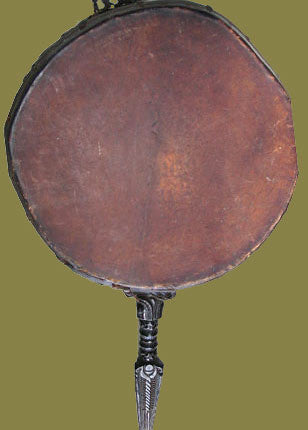 This handsome drum was an important ritual object used by a Tamang tribal shaman in the Middle Hills region of the Himalayas in Nepal. Known as a dhyangro, this drum was used in healings and exorcisms by the jhankri or village shaman.
Animal skin is tautly stretched over a circular wooden rim to create a double-sided head and secured with rattan strips.The finely carved handle resembles the phurba, or esoteric dagger, found in Tibetan Buddhist ritual, and has developed a rich, glossy patina during its many years of service. Beautiful relief carving depicting three faces, endless knots and caduceus like symbols encircle the handle. This fine object measures 25 in. long and is 14 in. across the drum head in both directions. Also included is a bent- wood drumstick with original cloth wrappings. It too has a wonderful patina from many years of use.  
---
More from this collection