Unique Embroidered Hmong Pleated Skirt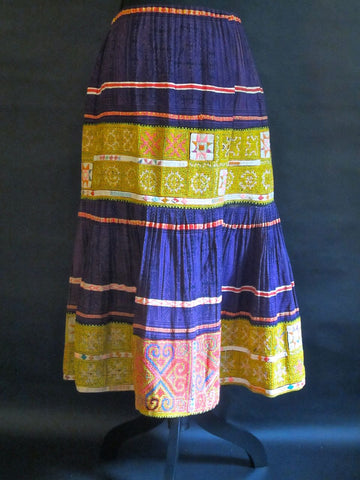 This colorful One of a Kind folkloric garment was collected in Chiang Mai in the early 1980s.
I've never seen another in such vibrant shades of plum and gold,with wonderful small appliquéd patches in geometric designs and colorful cloth!
It is truly feast of pattern, texture and color.
Narrow red, white and pink horizontal bands visually balance the abundant cross-stitch against the purple and black block-printed cotton fabric.
Though structurally sound, areas of wear show suggest it was vintage when bought and may date back the the 1960s. It really is a show-stopper, either displayed on the wall or on the body.
The elastic waist measures 28" and stretches to 36".
It measures 46" around the hips, is 30" long (mid-calf) and ends in a wide flounce that measures 72" around the hem.
---
More from this collection