Vintage Lupita Martinez Black Ware Pot from San Ildefonso Pueblo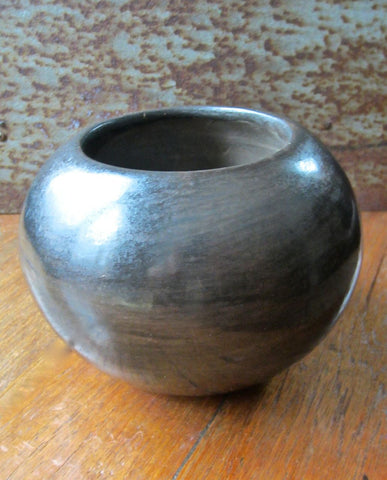 Lupita Martinez was born in 1918 and learned to create hand-coiled pots from her aunt by marriage, the master potter, Maria Martinez.
She made pots from 1935 to the1980s, enjoying the creation of classic forms of Blackware burnished to a high sheen by treasured polishing stones.This simple round bowl gleams black with bronze striations and was made in the mid 20th C.
It measures approximately 6" across, 5" high, with a circumference of 16",the mouth is  3"across.
Signed on the bottom, it is in very good condition with only a tiny hairline crack on the surface of the lip. 
Lupita died in 2006, leaving timeless burnished Blackware and painted Blackware to be enjoyed by generations of collectors to come. This minimalist design is at home in any environment. 
---
More from this collection