Exquisite Rainbow-Colored Huipil from Chichicastenango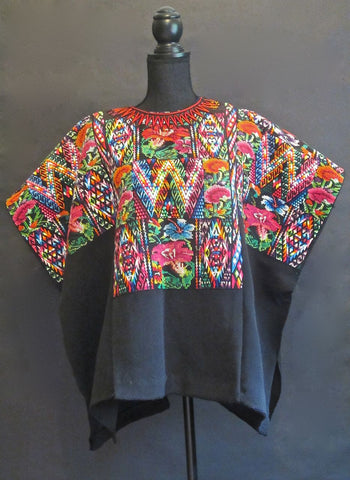 This handsome black tunic is exquisitely hand-embroidered in alternating geometric and floral patterns.The maker has an artist's eye for color and an artisan's way with a needle.
The red sunburst embellishing the neckline is classic Chichi-style and adds another layer of pizazz to the colorful display. The black body of the garment is the perfect foil to showcase and balance the maker's artistry. Though vintage, this piece is in excellent condition.
It measures 34.5" across flat (69" circumference), 26"long, armholes are 12", neck opening is 9".The shape is almost square and loose like a tunic. It corresponds to a L or XL in American sizing.
Beautiful Art to Wear as is or sides can be opened to create a long panel for decorative display.
---
More from this collection