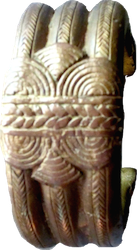 The rich patina of this old bracelet/currency from West Africa resembles bronze. It's simple but strong form features three narrow, engraved bands surmounted by spiral forms and a braided strip to create a cuff. The ends also terminate in half spirals and braided strips.
It was first sensitively designed in wax and then melted to create a mold for the molten brass to replace it in a technique commonly known as "Lost Wax. As molds can only be used one time in this process, this is a definitely a one of a kind piece. Though quite heavy, about 13 oz., it could be worn for special events. Otherwise it is a stunning addition to any collection. 

This handsome traditional object measures 2.75" x 3" The opening is 1.5"
---
More from this collection