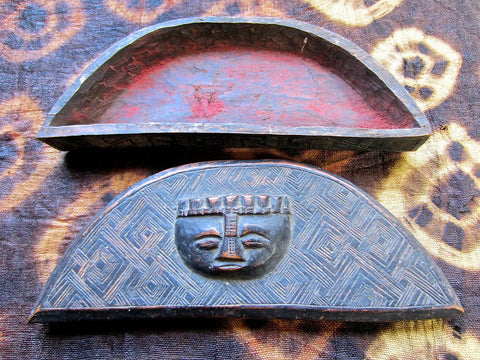 This handsome, wooden box is in the form of a half-moon, a traditional shape that was popular with the Bushoong/Kuba in the 19th C and earlier.
It is completely incised with complex inter-locking geometric motifs that are also featured in ceremonial raffia textiles worn by the royal elite and wooden drums and cups.
A mask or portrait of a human with ornate head-dress and beaded nose ornament is carved in relief at the center of the lid.
The interior of the box still bears traces of ceremonial red pigment called tukula, made from the inner bark of a locally grown hardwood tree. This pigment was mixed with oil or fat and used as a cosmetic by men and women on ritual occasions, a colorant for hair or cloth, and as funeral mementos when formed into hard bars.This object provided elegant storage for this precious material for use as a cosmetic.
It measures 10" long x  4" wide x 1.5" deep and was collected in Democratic Republic of Congo in the late 1970s.
Such a striking object! I've enjoyed its company for over three decades…
A wonderful addition to any collection!
---
More from this collection