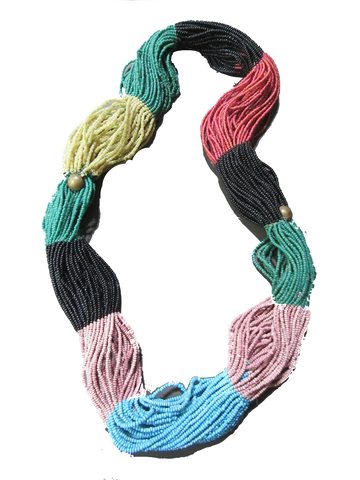 This lovely beaded necklace was created by a Zulu woman living in the Msinga area of Kwa Zulu in South Africa.
She has used multiple strands of glass beads arranged in blocks of six traditional colors (sky blue, light pink, grass green, light red, black and light yellow) regionally known as isinyolovane.The small glass beads are strung on cotton thread in shanks of 50 strands and tightly cinched between color transitions creating a gracefully undulating form. Two old brass studs add further richness to this elegant necklace. It measures 36 inches in length and weighs roughly 1lb. 

For more information see: Speaking with Beads: Zulu Arts from Southern Africa by Jean Morris and Eleanor Preston-Whyte, 1994,Thames and Hudson, New York. 
---
More from this collection