Vintage Traditional Zulu Beaded Necklace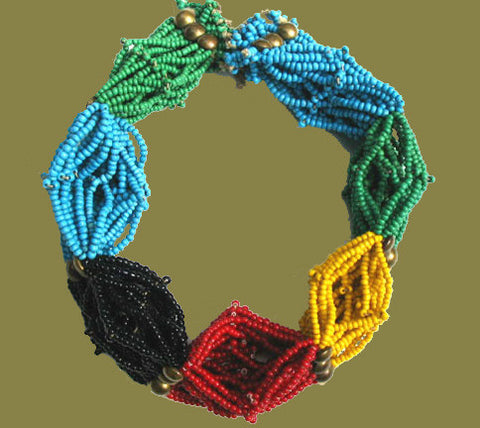 This impressive beaded necklace was created by a Zulu woman living in the Msinga area of Kwa Zulu in South Africa.
She has used multiple strands of glass beads arranged in blocks of five traditional colors (sky blue, grass green, red, black and yellow) regionally known as isithembu.

The brightly colored beads are creatively strung on cotton thread in diamond-shaped patterns in widths of three inches all around. Old brass studs, in groups of three embellish the areas where the colors meet and add further richness to this visual feast. It measures 28 inches in length and weighs roughly 1.5 lb.

For more information see: Speaking with Beads: Zulu Arts from Southern Africa by Jean Morris and Eleanor Preston-Whyte, 1994,Thames and Hudson, New York. 
---
More from this collection