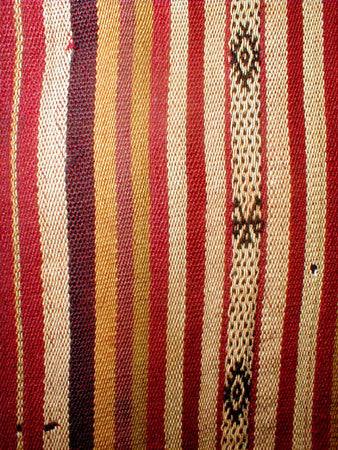 This charming textile was lovingly woven of fine alpaca wool by an Aymara mother for her small child. Small tunics like this are known as
ponchito
in Bolivia where the Aymara live in the Antiplano region around Lake Titicaca. The garment's rectangular shape measures 26 in. wide by 36 in. long. It is worn folded in half and has a slit opening for the child's head.
Three vertical bands of stripes in varying widths in red,olive green,off-white, black,yellow ochre,dusty pink and plum decorate the brick red ground. Solid stripes are interrupted by patterned bands of simple geometric motifs. The dyes used here were all natural vegetal dyes. The red may have derived from cochineal, an insect that was harvested from host cacti growing in the Central Andes. This was a major source of red dye in the 19th and early 20th centuries.
This
ponchito
dates to the late 19th C. It is in stable condition and shows signs of wear,with a few small holes and tear along the bottom selvedge, due to age and use. 
---
More from this collection