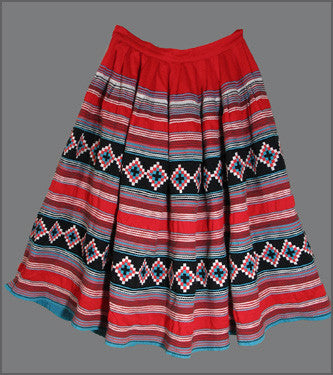 Skirts like these are the traditional attire of Miccosukee-speaking Seminole women for the New Year ceremony known as the Green Corn Dance.
Eastern Woodlands Indians from the Northeast to the Southeast practiced this ceremony before European contact. In the Florida Everglades, the Green Corn Dance extends over several days and traditionally involved dancing, singing and a ritual ball game. It usually takes place in late May or June. Besides the sacred nature of this ceremony of renewal, it is a social time – to see and be seen in dazzling and colorful patchwork clothes that women have been making for their families all year long. Until fairly recently, a Seminole or Miccosukee adult woman may require three or more long skirts to change into throughout the ceremony.

This dazzling skirt is made of red crepe fabric banded with two rows of red, white,black and turquoise patchwork consisting of repeating stepped diamond patterns. Each of these diamonds is made of 37 small square and rectangular patches of colorful cotton cloth.The black background is patched as well. The skirt measures 33 in. long x 118 in. in circumference. The waist is approximately 30 in. Besides the strong design elements of the patchwork bands, visual excitement is heightened by the addition of multiple rows of commercial rickrack in a variety of colors. The extensive use of rickrack adds a wonderful contrast of texture. As zippers are not used in the skirts made for native use, this one is closed in the traditional manner with a safety pin.

This skirt was created in the late 1980s for personal use, not for sale to tourists. 
---
More from this collection